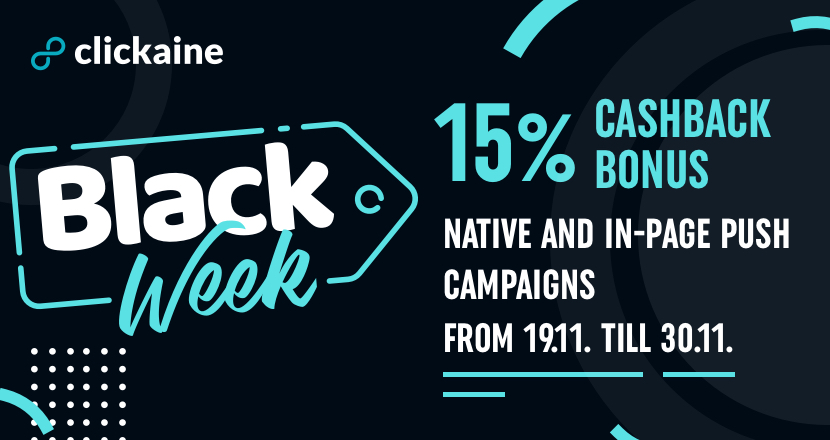 Advertisers
Special offers
1950 views November 18, 2020
Black Week Offer is almost here!
We know that you have been looking forward to Black Friday all year. So, we've decided to take it a step further and celebrate BLACK WEEKS. Or rather a week before and a week after Black Friday.
This year we prepared an exclusive 15% CASHBACK BONUS FOR YOU for all Native and In-Page Push campaigns.
How to receive the bonus?
✔ Contact your manager or support team to activate the bonus offer.
✔ Launch Native or In-Page Push Ad campaign from 19th till 30th of November.

✔ Receive your 15% cashback bonus to your account and spend it on any Ad format.

*Important to know, that campaigns should be unique and not be duplicated from the previous one.

Don't miss the chance to boost your conversions with Native and In-Page Push Ad campaigns!

You may reach out to our support team via live chat in the dashboard and we will assist you with all the questions or use the following contacts:
advertisers@clickaine.com
Skype: live:.cid.c4d1a00473bc572b
Telegram: @adclickaine