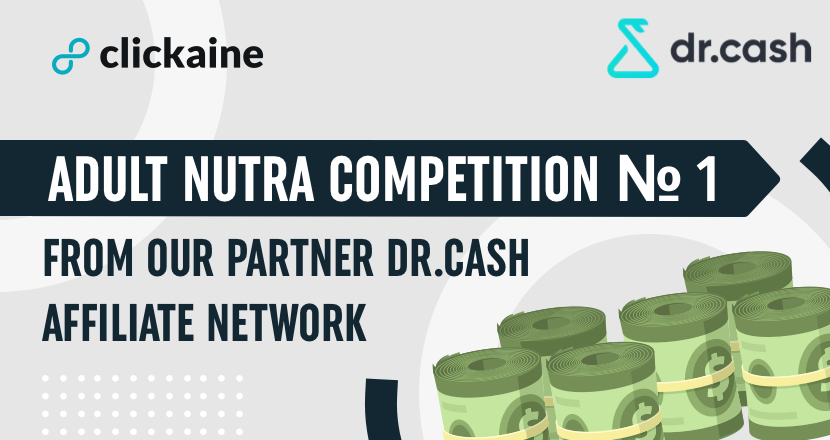 2313 views November 18, 2020
Adult Nutra Competition №1 from our trusted partner dr.cash
Today we would like to announce "Adult Nutra Competition №1" from our partner – dr.cash affiliate network.
$20,000 giveaway | Adult Nutra Competition №1
🔞 Friends, we invite you to explore the world of adult with dr.cash
In the next 2 months, there will be:
+ live tests and reviews of popular sources
+ case studies and selections of adult funnels (CR = 🔥%)
+ many new adult offers and recent geos
+ giveaway of $ 20,000 and the major Apple hardware
💰 Prizes will be drawn at the beginning of January among the top 25 publishers who have collected the maximum amounts of payments in the categories "potency" and "enhancement". Traffic sources – without limits
🏆 The tournament table is already being filled with the first applicants, click to join:
Briefly about dr.cash:
dr.cash is one of the leading adult Nutra affiliate networks. They have been working on the international market for 4 years and have more than 700 offers in their niche.

dr.cash has a good reputation because of the high approval rate, good support, strong communities, and openness to communicate with their affiliates. They constantly publish new case studies on their forum pages to make affiliate marketing as transparent as it is possible.

• A strong community in CIS and SEA (especially India);
• Amazing 24/7 support from your personal manager;
• About 3000 SS, COD and Trial offers for European and Asian markets;
• Manually selected pre-landings and landings with transparent CR;
• Fast payouts;
• Exclusive offers;
• Transparent offers ranking


Good luck to everyone in the competition!