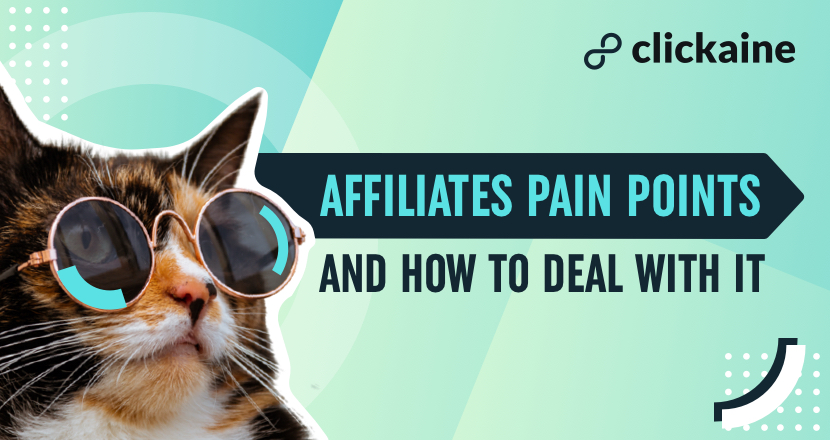 2633 views December 9, 2020
Affiliates Pain Points and how to deal with it
There is a view that one of the most promising spheres for making money is traffic arbitrage. Is it so? Is it easy to understand the intricacies of this business and start getting a real profit?

In this article, we will try to analyze the main affiliates' pain points and show ways on how to deal with them.
Based on our experience, the following are the main issues that our affiliates face:
• how to choose the best-performed niches and offers
• how to choose your Affiliate or CPA network
• how to test your offer
How to choose the best-performing niches and offers
Before registering with any network, before comparing payouts for offers and all that stuff, you need to find your marketing niche. It is also important to assess the relevance of the niche and its volume. It is clear that the wider the target audience that can be reached, the more chances to earn.

To analyze niches, we recommend using Similarweb for searching for referral traffic source and identify pre-landings and offer pages and spy-services such as:

* AdPlexity – a tool for monitoring mobile, desktop, native, PUSH, and eCommerce ads.
* WhatRunsWhere – more than 90 GEO ad networks from 15 countries are available for analysis. Works with both desktop and mobile.
* AdSpy – the largest ad base on Facebook and Instagram.

* Adheart – CIS analog of AdSpy.
* SpyOver – service for monitoring and analyzing advertising in teaser networks. You can view competitors' ads and landing pages. The service shows detailed statistics for each ad.
So below we narrowed down some large verticals that are still going strong in 2020.
Dating
Dating or dating services are available in all countries of the world, so this is one of the most active directions for traffic. In general, they are divided into two types: Mainstream dating (a regular dating service for everyone) and Adult (sex dating, webcams).


Many of them have great rates, especially if it's adult dating and it is much easier to convert an action into a lead, since only registration is required from a person which is the easiest step for a user.
Nutra
Products for beauty and health that put pressure on the complexes and the hidden desire of people to improve and rejuvenate: preparations for joints, potency, dietary supplements, weight loss products, anti-aging products.

The target audience for Nutra offers you anytime and anywhere. Here we have both: wide geography and a target audience. All that remains is to find an offer that is comparable to your advertising budget. Most importantly, there will always be a demand for such a product.
Sweepstakes
The Sweepstake offer invites users to take part in a prize draw. It is very important to prepare your audience with pre-landers. Users should understand their benefits and want to provide their personal information, answer questions correctly, and fill out a form.
Prepare a landing page for each GEO in the language of that country. Use the tracker to get statistics for analysis.
With sweepstakes offers you don't need to sell anything. Affiliates just promise users prizes and make money on it.
Crypto trading (Forex/Binary/Crypto)
Cryptosphere is gaining popularity again, you can take advantage of the information buzz around it. Every day, millions of deposits come to such platforms, this market is bathed in gold and you can make good money on it. Crypto offers surpass the product offers in several respects.
This niche is a great opportunity to generate profit, but with very competitive specifics
Gambling
Gambling includes everything related to online gambling — casinos, binaries, slots, poker, slots, casinos. This industry makes billions each year. Before jumping into this space, it would be wise to study up on regulations of promoting gaming offers in the selected GEOs. Also, you won't find much success with promoting your offers through Google Adwords, Yandex, or Facebook Ads, therefore, here you need to look for alternative traffic sources. As a con — high competition, of the pros — the opportunity to make a really good profit.
Betting
Betting belongs to one of the gambling niches, but it has its specific characteristics.
There are a huge number of traffic sources and the ability to attract large traffic before major sporting events. Specific: you need to work with betting quickly and actively — constantly monitor the trends. Advertisers often have a lot of traffic requirements and it can be difficult to get inexpensive leads.
eCommerce
Most often, these are clothes, accessories, gadgets — everything for which customers pay immediately and often directly from a mobile device or computer. In general, e-commerce offers great for all areas. Disadvantages: high competition among affiliates. Difficulty in achieving cooperation with huge online stores.
You can make a profit in any niche depending on the quality of your knowledge in a particular area, the time that you are willing to spend, and desire. A win-win option will be to take the niche in which you are an expert. In any case, you shouldn't dwell on the same niches, you should always try new options.
So now you found your niche, it's time to find a profitable offer in this niche, which you will promote.
Best criteria for choosing OFFER:
1. Awareness. The win-win option is choosing a theme in which you are as good as an expert. Working with something that arouses interest will at least bring you pleasure, and at the most – will give a lot of cool ideas for high-quality creatives.

2. Demand. The product or service must be in demand on the market taking into account the seasonality. For example, weight loss products are relevant before summer and spring.
Don't hesitate to check trends and seasonality in Google Trends и Yandex Wordstat for initial offer analytics.

3. Timelife. Look for information about the offer. What if it's old and there are a lot of cases for it? In this case, you will not get leads, even if you will spend money on traffic and do everything right.
As soon as you find a suitable offer, do not rush. Compare the conditions in different networks because it may vary.
How to choose your CPA Network?
There are thousands of networks and lots of key factors that will help you recognize the legitimate and relevance of networks. Here are a few tips to help you choose which one is the best for you:

• Reviews. Before you jump on board with any affiliate network, сheck if there are any complaints about technical support, timeliness of payments, and fraud. You should find actual feedback from other affiliates who currently work with the network. But don't trust the reviews 100%, they can be written by competitors and people who look at the situation from one side. Anyway, if most of the reviews are negative, run away.

• Longevity. Don't trust newbies, give priority to companies that have been on the market for a long time. They usually value their reputation and do not allow any kind of deception.

• Available tools and transparency. Pay attention to analytics, the more data is available in your personal account, the easier it will be to collaborate with them

• Payment terms and conditions. Make sure twice you are aware of the payment terms offered and check the payment services that are available on this network. Also, always consider the minimum payout amount. For example, if the minimum payout is $100, and you top up by $50. If you will break-even an Ad campaign with $0 profit, you will just return your $50. But the payouts condition will not allow you to receive your money, because the minimum payouts are $100.

• Traffic types. So you have chosen an offer and an affiliate network. Further, it is worth clarifying which traffic resources to use. Some networks prohibit the use of email marketing, social networks, etc. If you don't follow these rules, your account might be blocked and you will never receive your money back.

• Check the support team. If you want to make a profit, you will need to establish communication with the manager of the network. Make sure that the support team will provide you prompt help in a difficult situation and you will not wait 2 days for a response.

That's it, the offer has been selected, the affiliate program has approved, you received a link to the offer. What comes next?
Test it!

Step by step:
Step 1.
The main task is to find out the best traffic source, get at least a couple of tips
Step 2.
Choose one GEO and start working with it: make creatives, translations, pre-landings. To create your own banners, you can see what others are doing → spy-services will help you.

But remember that you need an original approach, copying will not bring great results.
Step 3.
Test creatives, preferably 6-10. Look at the CPC and select the cheapest ones. At the same stage, test the age of the audience.
Step 4.
Test several pre-landings with the selected creatives. For quality testing, they must be all different.
Step 6.
Do optimization only if you drive traffic to a small minus or zero.

Affiliates simply oblige to analyze the data and promptly make decisions on the optimization of advertising campaigns. How? Using a tracker.
What can be tracked? Almost everything: IP, country, device type, connection type, platform, user browser, and other parameters.

Besides, you also receive information on all ad campaigns: the number of clicks, flow from pre-landing to landing pages, conversions, the most successful creatives, pre-landings, landing pages, and much more!
Below the list of the most popular tackers:

Voluum
The main advantage of the tracker is that it is cloud-based, which means it will reduce time and costs for buying and installing the tracker on the server (hosting).
Binom
The tracker is one of the leaders in its class in terms of click processing speed and reporting. The interface is simple, intuitive, and user-friendly. System reports are built-in seconds. In technical terms, this is one of the best solutions.
Keitaro
Flexible and functional tracker. Divides traffic by geo, device, provider, and many other factors. All reports and sources of profit are generated in a convenient format.

AdsBridge
Tools that allow you to test different campaign options, bypass the moderation of well-known sources, have the maximum traffic data, which allows you to note the right conclusions, and optimize ads to increase conversions.

Making a stable profit from traffic arbitrage is not an easy process. Success depends on many conditions. But if you have enough endurance and optimism, you will definitely find the working approach that will bring you profit.
Our advertising experts are always ready to help you with analyzing and optimizing your ad campaigns. Click the button below to sign up and receive free support.