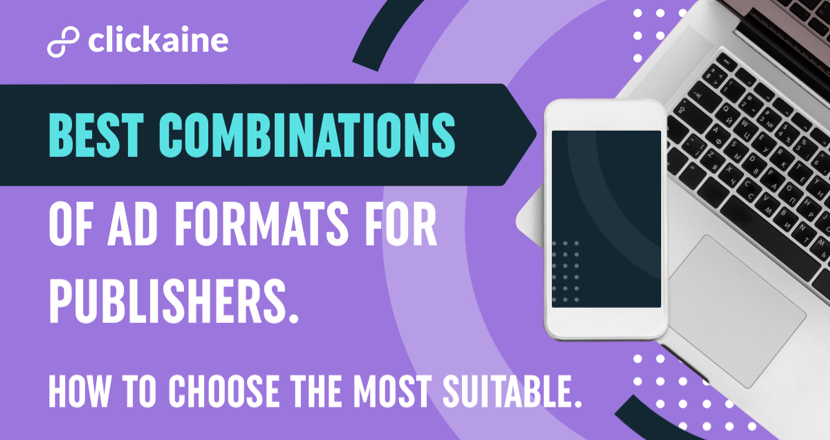 1989 views November 9, 2020
Best combinations of Ad formats for publishers. How to choose the most suitable
Are you thinking of monetizing your website? Are you having difficulties choosing the best Ad format for your website, and the optimum number of Ad formats to incorporate on your website? Would you like to combine different Ad formats on your website?

If the answer to any of these questions is "yes", then Clickaine is the best solution for you.

Clickaine provides publishers and advertisers with a full set of Ad formats giving them the opportunity to convert traffic on different websites and platforms.
Clickaine can boast of having the largest set of Ad formats on the market, and they include:
• In-Stream / Out-Stream Video;
• Popunders;
• Native;
• Full-page Interstitial
• Banners;
• Push-notifications;
• In-Page Push;
• Tab Ad.
While the prospect of generating a lot of traffic and a one-time revenue may be high when all the ad formats are implemented together on a website, its drawbacks are higher. These drawbacks include:

‣ bad user experience, because it will definitely annoyed visitors;
‣ low speed of downloading of your website;
‣ a high volume of random clicks not initiated by the user on purpose. 
At Clickaine, we recommend striking a balance between the quantities of traffic, and their qualities. With a balance in place, you will easily increase high quality and related traffic through a proper combination of Ad formats.

If you wish to have a user-friendly website and at the same time a website that will effectively increase your earnings, you will benefit from the following tips.

The choice of ad formats to incorporate on a website depends on the type of content offered by the website.

Conventionally, websites can be classified into four types:

1. Editorial & Content websites — content full of articles such as blogs, magazines, newspapers, image galleries, etc.

Recommended Ad Formats: Popunder, Native, Out-stream Video/Interstitial Push

2. Click generating/Circle Jerk websites — platforms that host pre-commissioned videos for end-user consumption. The website itself does not contain any content, just a preview of a video or image content, and leads the audience to a third-party source.

Recommended Ad Formats: Popunder, Native, Out-stream Video/Interstitial Push

3. Video-Streaming/Tube websites — websites, that broadcast the content in real-time by simply loading a video step by step.

Recommended Ad Formats: In-Stream Video, Native, Popunder, Interstitial Push.

4. File sharing & Image/video hosting websites — allow for everyone to save and share cloud-based files.

Recommended Ad Formats: Native, Popunder, Interstitial Push.

Don't limit the amount of money and traffic that you can potentially generate!

Clickaine team will be happy to support you in adding a new trending Ad format to your website.

Click here to start to monetize your website!