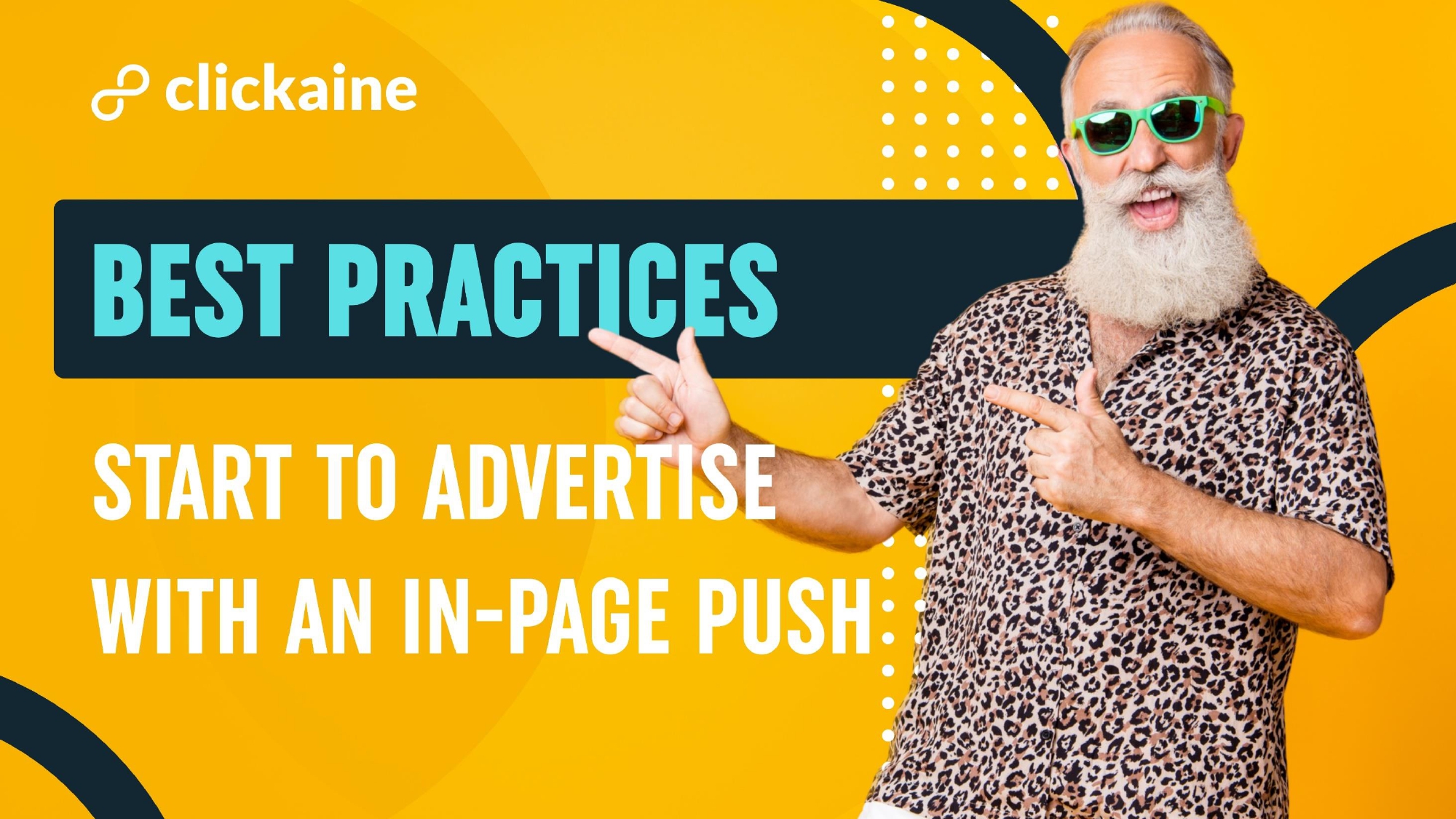 Ad formats
Advertisers
Best practices
2053 views October 5, 2020
Start to advertise with an In-Page Push. Best practices.
In the wake of 2020, we released a new ad format — In-Page Push (IPP). IPP is a new traffic type for push campaigns that helps to serve ads across all platforms. YES! Including iOS, Mac OS, and now traffic doesn't depend on updates from Chrome 80, which is a huge advantage of this format.

Why do you need to use In-page Push ads?
In general, In-page Push ads are similar to push-notifications, but with a few massive advantages:

• the ad is delivered to the user at the right time while browsing a website's content;
• IPP boasts of much higher CTR because all users who explore the website are 100% likely to see this ad;
• In-Page Push ad is on the market for a while now and often used by publishers, so users are receptive to them;
• users don't need to subscribe to a notification to see In-page Push ads.
So technically, notifications are coming directly on the website, not from the browser as with the regular Push Notifications.
We recommend trying IPP when you aren't satisfied with the results of your push campaigns or you want to increase the volume of traffic from additional resources. Or you just feel that you need a new approach to your advertisements.

Based on our experience, we suggest starting from the following targeting: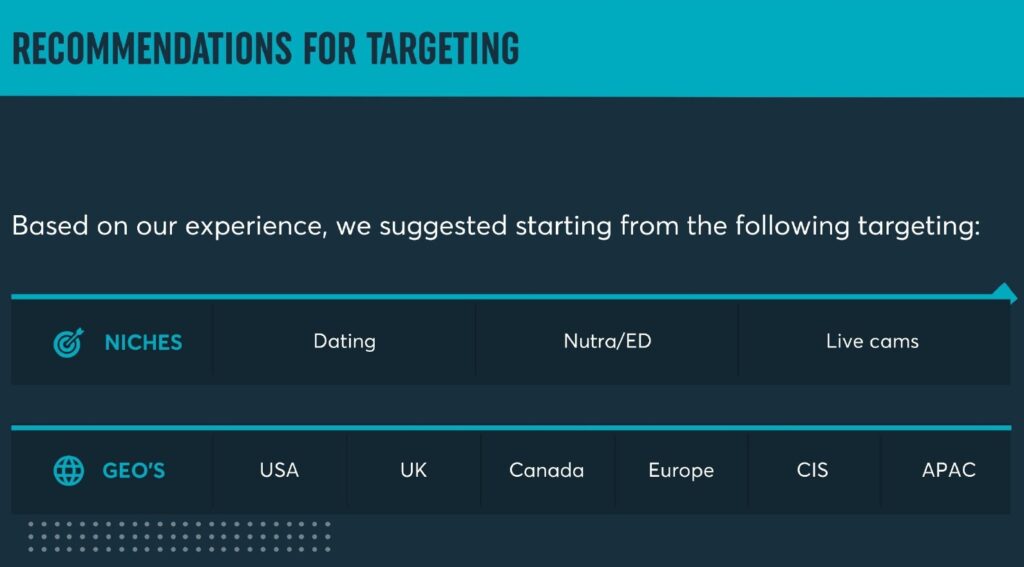 Recommendations for creatives:

Clickaine requires an identical size creative as for the usual push-notifications, with static images and text headlines.
Before launching the campaign make sure that you make great creatives:

‣ search for maximum info about languages, cultural differences, and trends of your targeted GEOs. It will help you to define the language of your message, find the right wordings, and choose suitable visuals.

*Take into account that several countries have two official languages or one official and the second language is popular and the most used in certain regions;


‣ write titles and descriptions for your ads. Focus on how your offer could solve the user's problems and create a clear message of the benefits of your product.

‣ select picture. Please note, that In-Page Push is a not large Ad Spot that appears on the user's screen.
The image size is 192*192 px which is too small for creatives with a lot of elements. So we recommend using pictures with clear sense, it could be one good visualized element with perfect quality.

Tangible statistics:

* Images of people have a 66% higher click-through rate (CTR) than those of objects.
* Close up images are 24% more engaging than zoomed out images.

We do not recommend using fake alert icons and exclamation marks, because such icons are associated with problem alerts. Users always rush to close such notifications.

Example: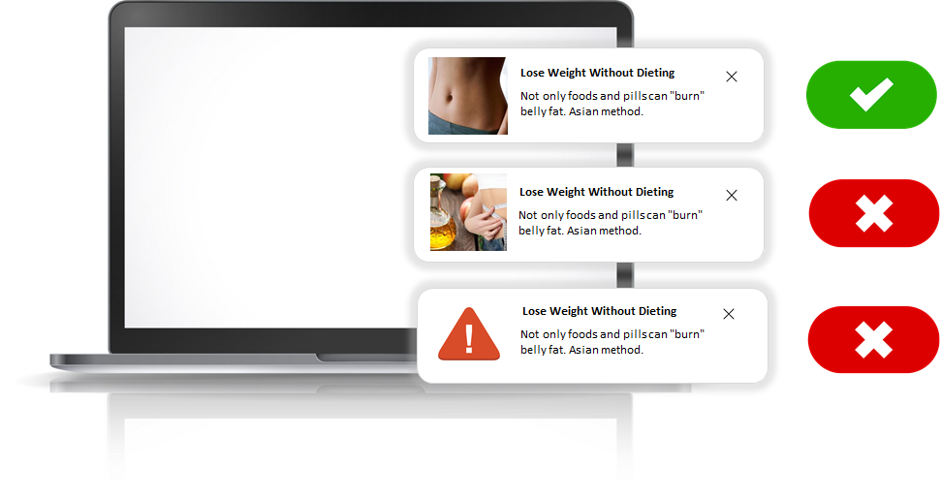 ‣ take into account that your creatives are relevant to the category of the platform they are placed. Your offer must be similar to the topic/mood of the website;


‣ don't be afraid to use creatives that catch the eye for successful advertising. At the same time, they shouldn't drive the audience mad.

Technical recommendations:

Landing page recommendations:

To achieve your business goals, we strongly recommend using only relevant creatives, where Ad image, text headline, and landing page are in the same context and sense.
Below are some interesting facts concerning approaches for building/using landing pages:
• reducing landing page form fields to just 4 boosts conversions by 120%;
• conversion rates drop by 4.42% for every extra second a page takes to load;
• a mobile page load time of over five seconds almost doubles the likelihood of visitors bouncing.

Don't force users to spend a lot of time on your flow. Steps leading to conversion should be easy, fun, and without pressure.

How to Set up?

Log in to your account on the Clickaine platform. On the left side, you will see the "Landings" icon, select it and click on "ADD LANDING".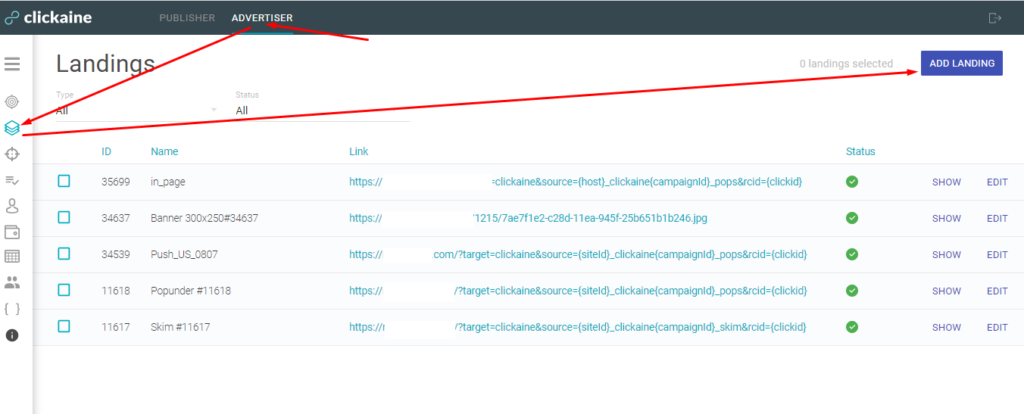 1 STEP: add creatives
Select a landing type from the list according to your Ad format. In our case → In Page notify. Insert your tracking link and upload the image, also type in title, description, and hit Save.

2 STEP: add the campaigns
Go back to the "Advertiser" page and click on "ADD CAMPAIGN"
Select Ad format "In page notify".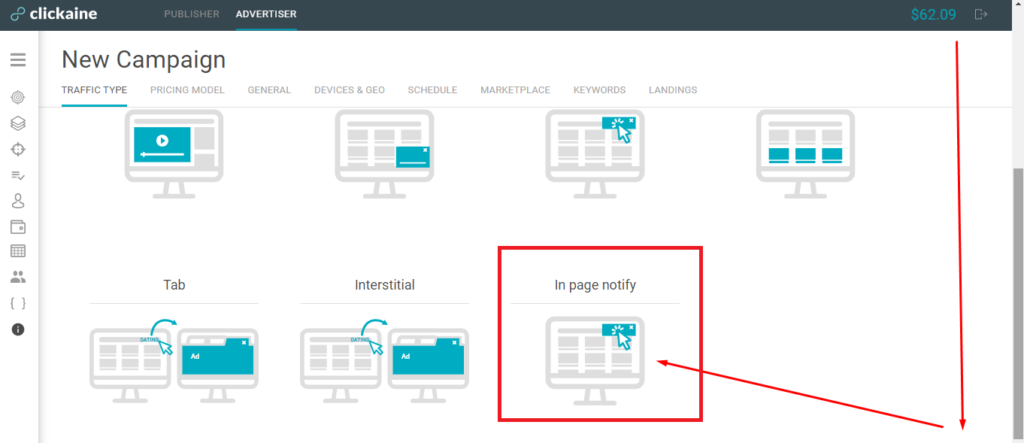 Set up general settings (campaign name, bid, frequency capping, rates, GEO's, and device targeting, etc.).

We recommend using competitive rates from the very beginning of your campaigns to gather data faster and proceed to performance-based optimization. Keep in mind, that slow Ad delivery and Smart Bidding will slow down your campaigns and reduce the bid which is not recommended to use during initial testing.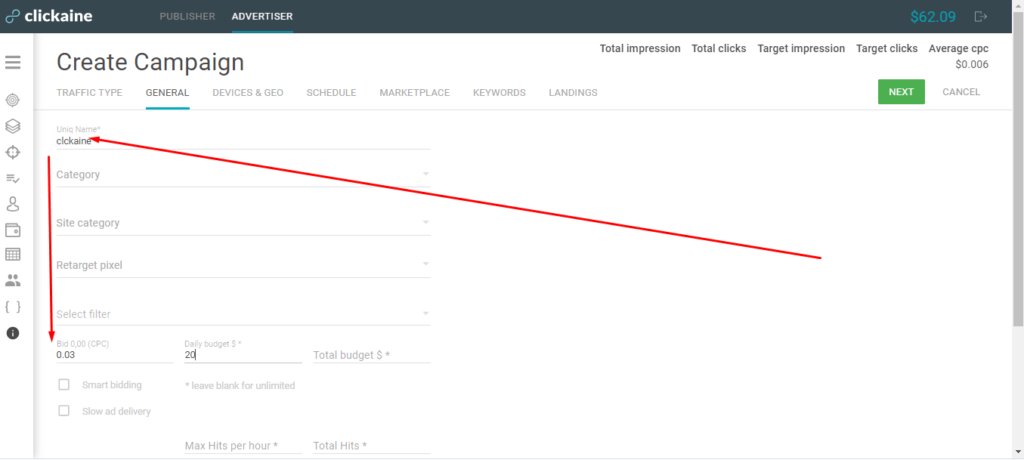 3 STEP: Add creatives to the campaign
Lastly, select the landings (creatives) that you created beforehand and add them to the campaign.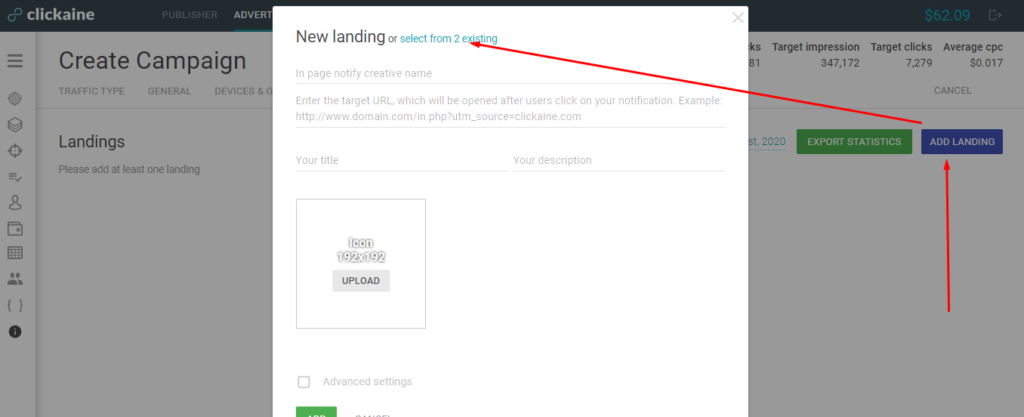 The MOST important moment to click on the button "SAVE AND GO BACK".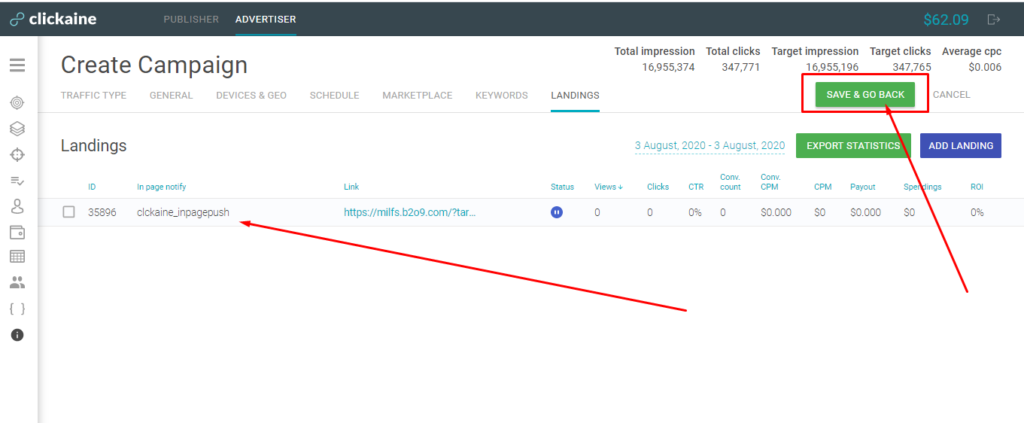 In-Page Push format is available to all Clickain's partners on our platform.

To start testing now, you may reach out to our support team and we will be glad to assist you with all the questions you may have. To become a partner or sign in, kindly follow the link.